ESCLAVAGE, MÉMOIRES NORMANDES. ROUEN, L'ENVERS D'UNE PROSPÉRITÉ
A selection of photographs from the research KAM by Nicola Lo Calzo is presented at Corderie Vallois in Rouen as part of the exhibition, « Esclavage, Mémoires normandes » a first major exhibition in the process of recognizing the history and memory of slavery in Normandy. Prints from the series AYITI, REGLA, AGOUDA are presented along with works by artists Emmanuelle Gall, Gilles Elie-Dit-Cosaque, Elisa Moris Vai between others.
The exhibition on the memory of slavery will open on May 10, 2023, at the end of a collegial process involving the towns of Honfleur, Le Havre and the Rouen Normandy Metropolis, as well as various museums, municipal and departmental archives and the "Villes et Pays d'art et d'histoire" label…
The aim?
To shed light on Normandy's involvement in the triangular trade in the 18th and 19th centuries, by comparing objects in collections and contemporary accounts. Bordeaux, Nantes and La Rochelle have been the focus of much research, and are now taking responsibility for their role in the slave trade and the ensuing trade in Western Europe through various cultural and commemorative events. Until now, Normandy has remained somewhat on the sidelines of this general movement in favor of greater transparency in local - town, regional -, individual and collective history. In fact, it is the responsibility of Europeans, and in particular of these coastal towns, in the crime against humanity that was slavery (law no. 2001-434 of May 21, 2001). The Rouen-Le Havre-Honfleur conglomerate, however, had a weight comparable to that of Bordeaux or Nantes... It was absolutely necessary to revisit this history, not only from an ethical point of view, but also in view of its medium- and long-term consequences for the region and its development.
Tracing history
The ship-owning families - in other words, those who financed the boat trips in order to make a profit from them - were mostly from Rouen. However, as the boats left from Le Havre and, to a lesser extent, Honfleur, it was long claimed that the triangular trade did not concern Rouen, despite the fact that it was heavily involved in financing this commercial eco-system…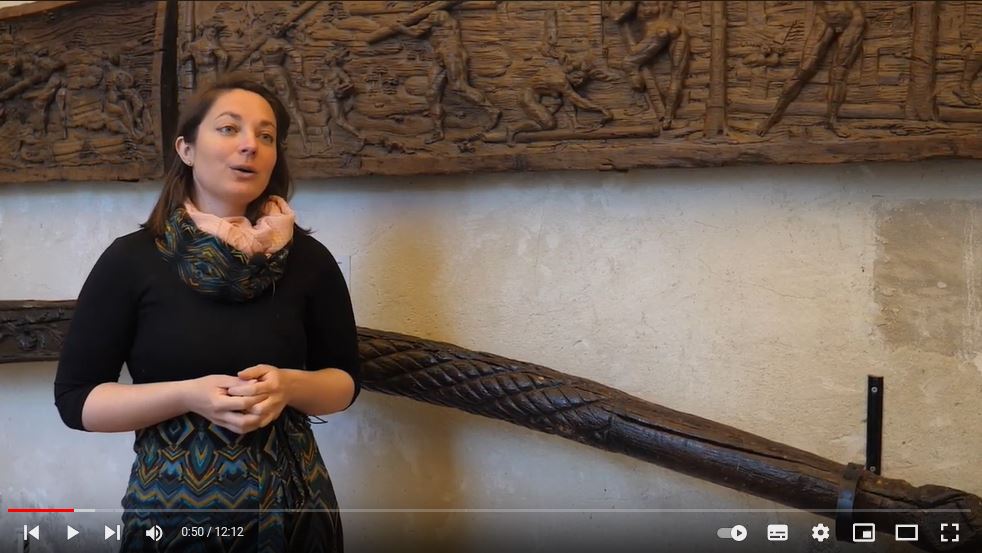 Genesis
Long before the 18th century, Normans were accustomed to transatlantic travel. The ember trade in Brazil and attempts at colonization in New France took them to the Americas, while the first Norman trading posts were opened in West Africa as early as the 17th century. A number of objects document this way of life and, in particular, the environment of Norman navigation: a beautiful astrolabe, maps and ivory objects, whose very material bears witness to early links with the African continent. A yoyo from the collections of the Musée de la Ferronnerie Le Secq des Tournelles is particularly emblematic, illustrating the ambivalence of the period.
A very present past
While the exhibition at Corderie Vallois brings to light certain elements of the past, what is perhaps most interesting is the echo that this effort to elucidate it finds in some of our contemporary issues. At a time when clothing is being manufactured in India, for example, at a human cost...
Textile fiber and cotton fabric production was one of Rouen's most important sectors in the triangular trade. The factories in the Cailly valley were particularly involved in the production of indiennes, a type of painted or printed cotton canvas. But it's not just about documenting the past for its own sake, as the exhibition questions our post-industrial era in the light of it.
Exhibition curator
Mathilde Schneider, Director of Musée Beauvoisine, Chief Curator of Heritage
Isabelle Gard, Project Manager, Public Services
Bruno Varin, assistant curator and cultural mediator
Scientific assistance: Simon Jean-Nebbache, PhD in museology
Practical information
From May 10, 2023 to September 17, 2023
Musée Industriel de la Corderie Vallois, Notre-Dame-de-Bondeville
Open daily from 1.30 pm to 6 pm
Admission: €4
Access
from Paris by train > Rouen - Rouen Rive-Droite stop
from Rouen with the T2 astuce network > Notre-Dame-de-Bondeville - Mairie V. stop Schoelcher
from Hameau de Frévaux with the F4 network >Notre-Dame-de-Bondeville - André Gide stop
Recognized as an exhibition of national interest by the French Ministry of Culture, it receives exceptional financial support from the French government.
The virtual exhibition, soon to go online, receives special support from FRAME
*One ticket for one of the three tours entitles the holder to reduced rates for the other two.
Fortunes and servitudes at Hôtel Dubocage de Bléville, 1 rue Jéröme Bellarmato, Le Havre. Exhibition from May 10 to November 10, 2023. Full price: €5 / concessions: 3€
D'une terre à l'autre at the Musée Eugène Boudin, Honfleur. Exhibition from May 10 to November 10, 2023. Full price: €8 / Reduced: €6.50